T
he Ex-Convent of the Oblate was born with the Renaissance more than 700 years ago to accommodate the nuns Le Oblate, who took care of patients from the hospital nearby. Today in the 21st century, when the need of another Humanistic Revival is essential, the designer has aimed to create a design that alters the structure, once a place of solitude and physical aid, to a space that provides a new sort of healing - Bibliotherapy....
T
he design of the new library infects the existing building with a fluid and flexible interior that "flows" through space, changing its form from zone to zone, according to the function and adjusting its character by interacting with the visitors. As information now is virtually everywhere, the library is no longer a storage of books, but much rather a stage for performance, a community center for interaction, sharing and communication. Through the use of natural and innovative materials, the interior design proposal "embraces" the visitors of the library and stimulates their sensual perceptions regenerating the traditional model to an incubator of ideas, creation and participation. 
The archives zone gets the user lost in space. It consists of a series of wall- dividers, filling up the whole space with books, giving the idea of memory, history and human achievement.
Two of every shelf's vertical slabs are made from memory foam which allows a passage through one zone to another.
Provoking interaction and curiosity this zone connects the visitors with memories, provides them serenity and indulges them with respect towards the past.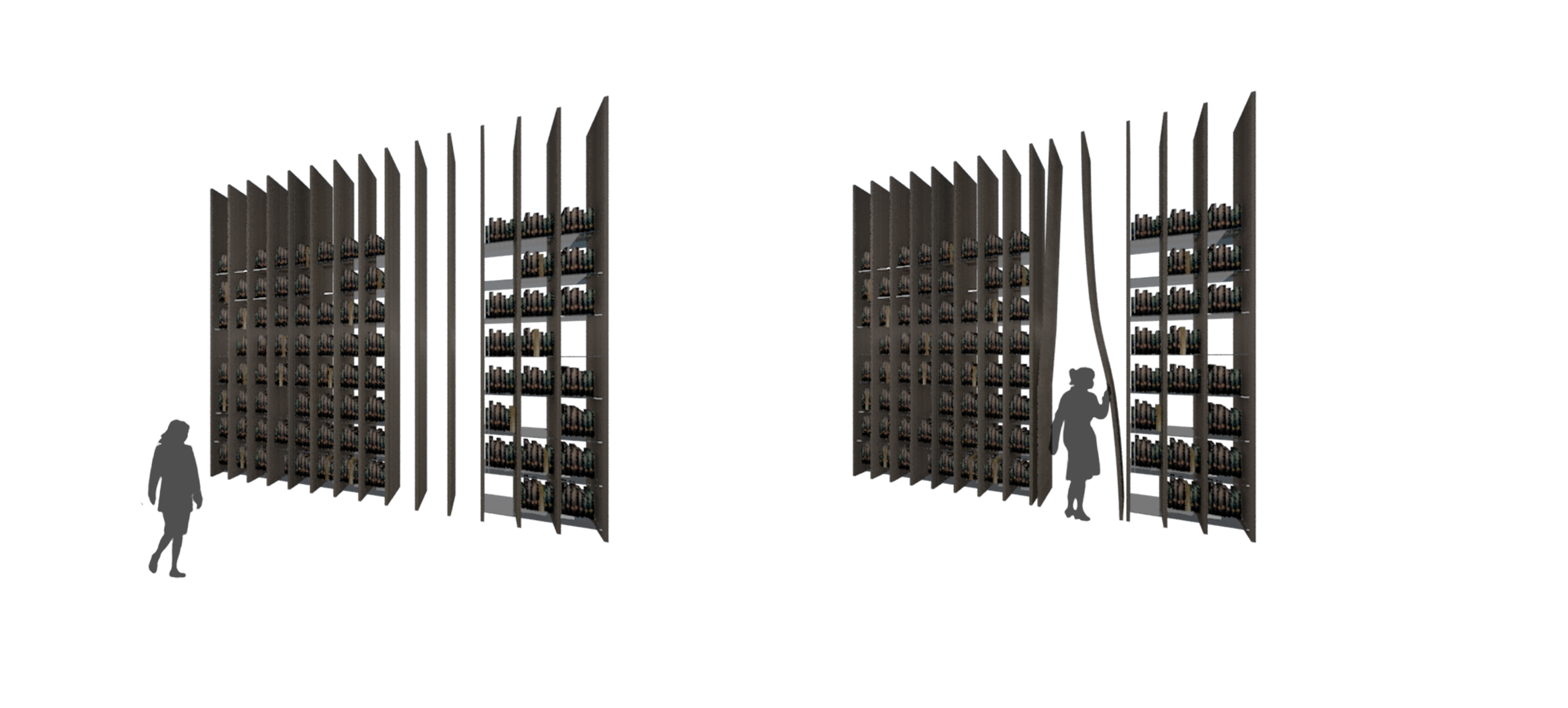 THE CANOPY STAIRCASE
The core of this project is set in the cloister of the Ex-Convent. The idea is to connect the ground floor and first floor in a canopy structure that will cover partially the ground level and extend the space of the first for more seating and user-oriented space.
One of the characteristics of the future library model is connectivity and a flowing circulation. The visitors will be able to reach their desired area of interest faster and in a more exciting way. The concept came from the form study of book pages and the idea of fluidity and flexibility. The structure is changing from a canopy with benches, to a staircase smoothly flowing down into another seating area at ground level.           
Below the canopy the grass area is protected from sun glare and heat and delivers another attractive space for the visitors. e light and shadows are protagonists and take the visitors into their stories.